Data Logger
After many trials, finally I was able to complete this small project which had been in my mind for a long time.
A data logger that store information on SD card. Using PIC18F4550, and one SD card socket I was able finally to complete this project. One Analogue input was added to the board where any analogue sensor can be placed over there. (As of now I am using a temperature sensor (NTC).
The PIC program was made using MikroC. (This made programming PIC much simpler, and saved a lot of time with its gerat libraries)
Below the final circuit picture.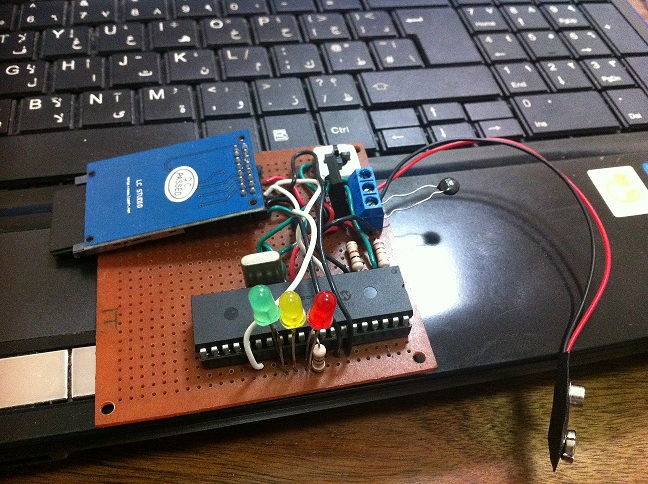 My plan now is to write a small application that would get the logged data, and based on scaling information entered to the software; correct values would be calculated and plotted.
Please let me know if you were trying to build a similar project, and I'll help you as much as possible.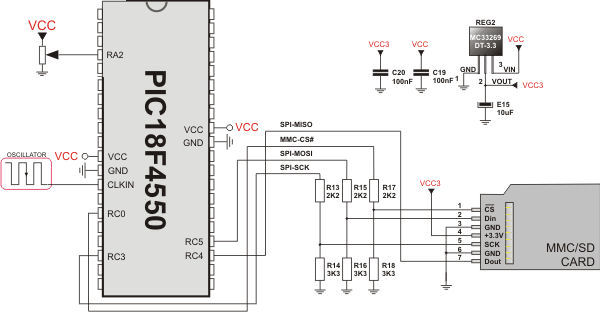 Code:
// 

MMC

 module connections


sbit

 

Mmc_Chip_Select

           

at

 

LATA5_bit

;  // for writing to output pin always use latch (

PIC18

 family)


sbit

 

Mmc_Chip_Select_Direction

 

at

 

TRISA5_bit

;
// 

eof

 

MMC

 module connections


long

 

int

 

temp_res;


const

 

LINE_LEN

 

=

 

16

;

         

///012345678901234


char

 

file_contents[LINE_LEN]

 

=

 "XX,

XXXXXXXXXXXX

"

;


int

 

temp;


char

           

filename[]

 

=

 

"TempLogF.TXT"

;


int

 

i;


unsigned

 

short

 

loop,

 

loop2

;




char

 

txt[

12

];



void

 

M_Create_New_File()

 

{



  

Mmc_Fat_Set_File_Date

(

2010

,

 

4

,

 

19

,

 

9

,

 

0

,

 

0

);

 

// Set file date & time info


  

Mmc_Fat_Assign

(&filename, 

0xA0

);

          

// Find existing file or create a new one


  

Mmc_Fat_Rewrite

();       
  

PORTD

=

0xFF

;

                 

// To clear file and start with new data


  

for

(loop

 

=

 

1

;

 

loop

 

<=

 99

99

;

 

loop++)

 

{


   

PORTD

=

0b10100000

;


  

Delay_1sec

();
    

Delay_1sec

();
    

Delay_1sec

();

     

PORTD

=

0b01000000

;





    

file_contents[

0

]

 

=

 

loop

 

/

 

10

 

+

 

48

;


    

file_contents[

1

]

 

=

 

loop

 

%

 

10

 

+

 

48

;


    
    

temp_res

 

=

 

ADC_Read(

2

);


    

LongIntToStrWithZeros

(temp_res, 

txt);


    

file_contents[

3

]

 

=

 

(temp_res

 

/

 

1000

)

 

+

 

48

;



    

for

(i=

4

;i<=

14

;i++)


    

file_contents[i]

 

=

 

txt[i-

4

];



    

Mmc_Fat_Write

(file_contents, 

LINE_LEN-

1

);

   

// write data to the assigned file


    

Mmc_Fat_Write

(

"\r\n"

,

 

2

);

   

// write data to the assigned file


   // 

Mmc_Fat_Write

('\n', 1);   // write data to the assigned file
    

Delay_1sec

();
    

Delay_1sec

();

  

}
}





// Main. 



void

 

main()

 

{


  

ADCON1

 

=

 

12

;

                  

// Configure AN pins as digital


  

CMCON

  

|=

 

7

;

                     

// Turn off comparators


  

TRISD

=

0x00

;


  

TRISA

=

0b00001111

;


   
   

PORTD

=

0b10100000

;


   

Delay_1sec

();
   

Delay_1sec

();
   

PORTD

=

0b01100000

;


   

Delay_1sec

();
   

Delay_1sec

();



  // Initialize 

SPI1

 module
  

SPI1_Init_Advanced

(_SPI_MASTER_OSC_DIV64, 

_SPI_DATA_SAMPLE_MIDDLE

, 

_SPI_CLK_IDLE_LOW

, 

_SPI_LOW_2_HIGH

);
   

Delay_ms(

10

);



   

if

 (

Mmc_Fat_Init

() 

==

 

0

)

    // reinitialize 

spi

 at higher speed
  

{


  

PORTD

=

0b11100000

;


    

SPI1_Init_Advanced

(_SPI_MASTER_OSC_DIV4, 

_SPI_DATA_SAMPLE_MIDDLE

, 

_SPI_CLK_IDLE_LOW

, 

_SPI_LOW_2_HIGH

);
    

M_Create_New_File();



    

PORTD

=

0b11100000

;


   
    

while

(

1

)


    

{


         

PORTD

=

0b11100000

;


         

Delay_1sec

();
         

Delay_1sec

();
         

PORTD

=

0x0

;


         

Delay_1sec

();
         

Delay_1sec

();
     

}


  

}


  

else

 

{


        

PORTD

=

0b01000000

;




  

}

}